Our two days in Nashville on the first leg of the tour are out of the way! We stayed with an extremely talented songwriter and good friend from back in our Collin College Jazz Band days, Dana Leigh. Dana, Cody, and I had a house show in town with some other awesome Nashville artists including
Liz Cooper
, Nathaniel Hoekstra, and Stephen Mage. We had some catchy beers, tasty music, there was a bonfire going, in other words good times all around. Kim was in town over the weekend for her birthday and performed a few songs with me. We got back to Dana's house about 2am and woke to find that several trees had fallen down around the house…I guess the trees out here fall down for no reason. I'll have to remember that.
Since our next confirmed date isn't until Wednesday night, we decided to hang around Nashville for another day. Dana cooked us some eggs and potatoes for breakfast, which was amazing and welcome since we aren't getting too many home cooked meals out here. We all met Kim and drove up to Love Circle which Dana assured us (and she was right) was the best view of the Nashville skyline you could get. I'll include a picture of that (courtesy of Dana). Next we drove over to East Nashville where we were relieved not to be the biggest hipsters around. Then we didn't feel quite hipster enough so we went record shopping. Dana, Kim, Cody, and I capped off the night with a beer at the Red Door Saloon off of Broadway before heading to our destination for the night in Murfreesboro as rain began to fall hard again. Our host there had a pot roast and veggies waiting for us. Yum. 
Tomorrow, we're jumping over to Asheville, somewhere I've long looked forward to visiting. We haven't got any gig arrangements there yet, so we're hoping to either throw something together last minute, find an open mic in town, or just busk around. It is Asheville, after all. If the rain holds off, we may camp. If not, we probably won't. We've got a tentative host in town as well. 
Nashville was incredible. Perhaps most importantly, we're set up for the return trip. Sleepy time, see ya!
Jesse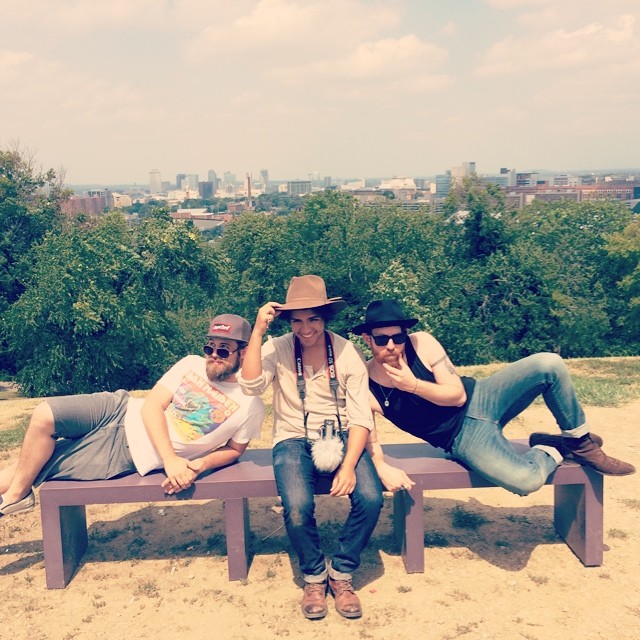 ---